Regional Superior: Fr. Mark odion, MSP
Phone: 02072742367
Email: region.superior@mspfathers.co.uk
Vice Regional Superior: Fr. Livinus Onyebuchi, MSP
Phone: 012962905452
Fax: 01296427881
Regional Bursar: Fr. Noel Ugoagwu, MSP
Phone: 02088036631; Fax: 02083456495
COMMUNITIES AND SUPERIORS
Northampton: Fr Joseph Udoh, MSP
Southwark: Fr Donatus Anosike, MSP
Westminster: Rev. Fr. Fredrick Agbor Isek, MSP
Wrexham: Fr. Anthony Nnamah, MSP
Clifton: Fr Michael Faneye, MSP
Leeds: Fr Patrick Ebito Akekpe, MSP
Scotland: Fr Henry Nkop, MSP
DEPARTMENTS
MISSION DEVELOPMENT OFFICE
Rev Fr Eugene Lugha, MSP (Director)
SAFEGUARDING
Fr Cosmas Ikirodah, MSP (Representative)
BOARD OF TRUSTEES MEMEBERS
REV FR. MARK EHICHIOYA ODION, MSP
Rev Fr. Mark Ehichioya Odion is a Catholic Priest of the Missionary Society of St Paul of Nigeria. Ordained in 2001, he is currently the Regional Superior of the Missionaries of St Paul in the United Kingdom.
He works at the Catholic Bishops' Conference of England and Wales (CBCEW) in the Policy and Research Department. He engages in parish awareness campaigns against human trafficking and modern slavery, especially domestic servitude in England and Wales, sensitising the local communities. He also helps dioceses and parishes to identify and reach out to victims by organising seminars and training at the parish level, focusing on potential victims and how the local Church can supportively respond to their needs. He has also been able, with CBCEW support, to reach out to those experiencing domestic abuse or those who have been trafficked and remain in the control of traffickers, enabling them to talk to the police about their experiences and obtain help to regain their freedom and confidence.
REV FR. LIVINUS ONYEBUCHI, MSP
Rev Fr. Livinus Onyebuchi MSP is a priest of the Missionary Society of St Paul. He was ordained on July the 2nd 1994. He did his further studies in Dublin, Ireland, and holds an MA degree in Philosophy, LL.B, and Postgraduate Diploma in Public Relations. Fr Livie has ministered as: Administrator, ItamakpakoIsiwo Parish, Ijebu-Ode Diocese (August – December 1994); Acting Editor, Ambassador Publications (1995 – 1996); Dean of Students/Lecturer in Philosophy and Theology, The National Missionary Seminary of St Paul, Abuja (1996 – 1997); Parish Chaplain, Church of Holy Name, Dublin (1999 – 2003); Lecturer in Philosophy, The National Missionary Seminary of St Paul, Abuja (2003 – 2011), and Registrar/Academic Dean of the seminary (2004 – 2011); Rector, St Albert Institute of Philosophy, Kafanchan, Kaduna State (2011 – 2015); Rector, Christ the King Major Seminary, Kafanchan Diocese (2012 – 2015); Catholic Chaplain, University of Hertfordshire, Hatfield, England/Assistant Priest of the two Hatfield parishes (2015 – 2017); Parish Priest, Mary, Mother of the Church parish, Hatfield, and Parish Priest, St Peter's, Hatfield (2017 – 2021); Vice Regional Superior, Missionary Society of St Paul, UK Region (2021 – Priest); Parish Priest, Our Lady of Lourdes, Aylesbury, Buckinghamshire (2021 – present). Fr Livie has also served the Church in the Missionary Society of St Paul as: Director of Communications (2004 – 2010); Delegate to the Society's General Chapters of 1995 and 2007; Chairman, Chapter Planning Committee (2006 and 2008); Nigeria North Vice Mission Superior (2004 – 2010). He is the author of Celibacy, Sexual Misconduct, and the Law (2006), Official Directory of the Catholic Church in Nigeria (2007), Introduction to Research Methodology (2010), and The Truth about Human Sexuality (2012), and several articles and poems.
REV FR. DAVID GIBBONS, KHS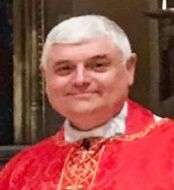 Rev Fr. David is Parish Priest of Sevenoaks and Dean of the Tunbridge Wells Deanery in the Archdiocese of Southwark. Originally an Anglican minister for 10 years, he became a Catholic and in 1996 was Ordained as a Catholic Priest by Archbishop Michael Bowen. After four years as Assistant Priest in Maidstone, he was Parish Priest of Camberwell from 2000 to 2011. While there he was much involved in the establishment of the Nigerian Chaplaincy.
From 2011 to 2016 he was Director of the diocesan Centre for Catholic Formation, responsible for evangelization, catechesis, and faith formation in the archdiocese. In 2016 he was appointed Parish Priest of Sevenoaks in Kent, geographically the largest parish in the archdiocese, and soon after Dean of the Deanery. For over 20 years Fr David was Chair of the diocesan Art & Architecture Committee and a member of the Diocesan Liturgy Commission until in 2018 he was elected Chairman of the Southern Historic Churches Committee, which issues faculties for changes to Listed churches. He is also an Ecclesiastic Knight of the Equestrian Order of the Holy Sepulchre of Jerusalem.
REV FR. NOEL UGOAGWU, MSP
Fr Noel Ugoagwu, MSP was ordained a Catholic Priest of the Missionary Society of St Paul on the 25th of June 2011. He served in Onitsha Archdiocese, Nigeria and later in Torit Diocese, South Sudan. He has equally served in the Diocese of Aberdeen and Argyll & the Isles Diocese both in Scotland. Presently, he serves in the Archdiocese of Westminster, England and is a member of the MSP UK Regional Council by virtue of his position as the Regional Bursar.
MR EAMONN DORAN
Mr Eamonn Doran is a retired solicitor and former partner in Linklaters LLP, an international law firm. He is a member of the Competition Appeal Tribunal and a Magistrate. He chairs the Remuneration Committee of Magdalen College, Oxford, is a trustee of Missio, a Catholic Mission charity, and is a founder trustee of the GrowEdo Support Group which assists projects in Nigeria to combat human trafficking. He was the founding chairman of Oliver House School and a director and first CEO of PACT, which runs charitable schools with a Catholic ethos
EJIRO UGHWUJABO
Ejiro Ughwujabo was born on 13 May 1954 at Eku in the now Delta state of Nigeria. He is the eldest child of the late Catechist James Ughwujabo of Kokori and Chief Mrs Martha Ughwujabo nee Emagono of Eku.
From the age of 9, Ejiro started to serve at Mass and became very involved with the Church, teaching Catechism to his peers and at Secondary School, preparing young people for the sacraments. Even in his later life in the United Kingdom, he became a volunteer catechist.
When the Mass in Urhobo wasintroduced in Warri Diocese, Ejiro was among the first active promoters although he was more widely known across the diocese for singing Responsorial Psalms both in English and Urhobo. He is among those who started the monthly Mass in Urhobo in London UK. He is the current President of the Urhobo Catholic Community in the United Kingdom.
He is also a very active member of the Nigerian Catholic Chaplaincy in England and Wales and is the current President of the Chaplaincy Catholic Men Organisation.
He has been very actively involved in the work of the Missionaries of St Paul since they first arrived in the United Kingdom.
As a career teacher, Ejiro worked in Catholic Education and rose to become Principal St Mary's Catholic High School in West Croydon. He retired from active service in August 2014 though he continues to work as a volunteer with MISSIO delivering assemblies in schools in the London area.
Ejiro is also involved in community work and is currently the President of the Urhobo Progress Union in the United Kingdom.
He continues to enjoy Church music and is the Liturgy Coordinator of Province 12 of the Knights of St Columba in the UK.
CHRISTINA OBY-ONYIA
Christina is a legal practitioner with over 30 years of experience. Was practising in Lagos Nigeria as a Barrister and Solicitor of the Supreme Court of Nigeria prior to settling in London and being enrolled as a Solicitor of the Supreme Court of England and Wales in 2012; Member of the Nigerian Bar Association and the Law Society of England and Wales; Member of the Institute of Money Advisers,
England. LLB Hons; BL; Certificate in Money Advice Practice England.
She works as a Consultant Solicitor with Mordi & Co Solicitors, specialising in Residential and Commercial Property, Landlord and Tenant, and Civil Litigation. A Partner in EN& N Law Firm, Legal Practitioners in Victoria Island, Lagos Nigeria. The Firm offers services in Oil & Gas, Corporate and Commercial law, Civil Litigation and Private Client matters.
Apart from her career in Law, Christina is talented in other areas and is a certified International Event Decor Professional and the Creative Director of TGlam Events Ltd UK; engaged in crafting bespoke event decoration for parties, weddings, and special occasions.
She is a Director and volunteer Company Secretary of a budding Agrocentric investor company basedin Nigeria.
Engaging in community work, championing the cause of women and youth empowerment. She is theimmediate past Vice President of Ebonyi State Union UK and received an award for great Service tothe Community from the Union in 2015.
She is the Founder and first Chairperson of Ebonyi Women Alliance in Diaspora UK (EWAD UK) 2015. The EWAD UK became the outreach to disadvantaged women and youth in Ebonyi State, Nigeria. Theorganisation has been providing desks and Back to School bag packs to over 595 students in someselected schools in Ebonyi State since 2017 and also providing Personal Hygiene Packs full years' supply to young girls in selected schools. Stemming period poverty is something that every womanshould be interested in stamping out. We are doing our bit and want to do more for women andchildren.
Christina's has a keen interest in organic farming, good nutrition and eating for health. She iscurrently working on a project that will sensitize individuals to take control of their health throughmaking the right food choices and encouraging organic farming.
Christina is a member of the Commonwealth Business Women's Network of Nigeria. She is also a Catholic Christian and worships at the Lady of the Cray Orpington.
REV FR. INNOCENT ABONYI, MSP
Fr. Innocent Abonyi, MSP, is a Priest of the Missionary Society of St. Paul of Nigeria. He was ordained a priest for the missions at the National Missionary Seminary of St. Paul, Gwagwalada, Abuja on 3rd July 1999.
Since his priestly ordination, he has served as a formator, spiritual director and lecturer at the National Missionary Seminary of St. Paul, Gwagwalada, Abuja, and Iperu-Remo, Ogun State (1999 - 2006) respectively. He had his postgraduate studies in the Republic of Ireland (2001 – 2003) and Oxford Brookes University, Oxford, England (2012 - 2014), obtaining a Master's Degree in each case. He has served as parish priest in three parishes in England. He was a youth chaplain and spiritual director taking care of young people in the catholic diocese of Northampton (2007 – 2013). He was a Catholic Chaplain for the Multi-Faith Chaplaincy of Bucks New University, High Wycombe, Buckinghamshire (2007 – 2014). He served as a Chaplain for the Knights of St. Columba (Thames Valley Province and Southwark province) 2007 - 2013, 2013 – 2021 respectively. He was a Regional Superior for the MSP UK Region (2018 – 2021).
He is currently the Parish Priest of Our Lady Star of the Sea Catholic Church, Llandudno, Conwy, Wales (Wrexham Diocese), United Kingdom. Fr. Innocent is a spiritual director, retreat preacher and pastoral animator. He is involved in giving conference talks and workshops.
JULIET OLASIYAN
I am an entrepreneur and business consultant. The Director and Registered Manager of Living Spring Solutions (care & training) Limited, a social care provider collaborating with local authorities in providing care especially for individuals with learning disabilities, autism, and enduring mental health. Since 2011, I have worked with various colleges in the provision of accredited learning and personal development for adults and young people.
A member, building committee, church choir and a formal member of the pastoral council, our Lady of the Assumption Catholic Church in Deptford, South East London.
Former chief executive of a construction firm building for NNPC in Nigeria and the University of Benin.
I hold a degree in Law from the University of Benin and called to the Nigerian Bar.
JANE HODGSON

Jane Hodgson is a self-employed barrister in chambers in London. She specialises in social housing and property law. Prior to becoming a lawyer, Jane was an officer in the Royal Navy. In the mid-1990s, she helped to set up the British charity Action for Russian Children.
MACDONALD OKOLIE
My name is Macdonald Okolie, known to most as Don. I live in Bromley, Kent. I work within the Financial Services sector, with a specialism in insurance. My interests encompass sports, people, and international cultures. As a supporter of the Catholic Church and the activities of the Missionary Society of St Paul. I am interested in playing a role in its promotion and preservation.
CLIVE
Clive has been a trustee of the MSPs for about 7 years now, service born of a love for the mission field which is the UK, having visited Gwagwalada in 2006. St Louis de Montfort?s True Devotion to Mary is close to Clive?s heart in his daily work in the delivery of housing for developers and housing associations for the past 45 years and his favourite bible verse is Proverbs 3:5-6.